Sam Johnson III becomes first 8th-grader ever in Michigan to earn an offer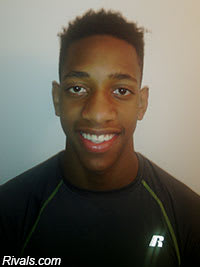 Think about what you were doing in the eighth-grade. Maybe preparing for the junior prom, or deciding on which high school you wanted to attend? Not Samuel Johnson III of Detroit. They call Johnson "The Future" and he is already looking towards that, earning his first college football scholarship from Akron.
Johnson said he was offered by the head man himself, Akron head coach, Terry Bowden, who also wanted to send a message to one of Johnson's instate schools, that they were the first to jump all the way into his recruitment.
"I actually called them to find out when their camp was," said Johnson. "He had already knew about me from watching my film. And then he said he wanted me to call Coach Wheatley from Michigan, and tell him that Akron football was the first one to offer you.
"At that point I was excited, and I couldn't believe it. I was speechless."
Johnson's name has been on the recruiting scene for a couple of years now, and is regarded as one of the top players in the country for 2019, so the early offer truly comes as no surprise, especially in today's world of recruiting. Prospects are getting evaluated younger and younger, and Johnson, who will play his football at Southfield High, also made history, becoming the first middle-schooler ever to receive a football offer in the state of Michigan. Quite the accomplishment for any kid his age,
"It actually feels good to be offered as an eighth-grader," Johnson said. "I work hard, and that was all that I had been waiting on. And to also be a starter on varsity is big too. It's a lot to to, but I just want to keep working at it, and try to get more."
The Big Ten's heavy-hitters, Ohio State, Michigan State, and Michigan have already gotten involved in Johnson's recruitment as well, and should earn offers from those programs as well. Johnson isn't your average eighth-grade football player, and will be deemed a national recruit whenever his class rankings are released in a few years.
So who is Sam Johnson III?
Well, he already stands 6-3, and weighs 175-pounds, so the physical aspect of his game is there. But he has more than enough game to match, and when I tell you Johnson is impressive in person, believe it. His size, mechanics, and decision making are far more superior to other quarterbacks his age, and he his already a proven winner. His little league team, the Detroit Spartans, won the Detroit P.A.L. (Police Athletic League) football title at Ford Field earlier this year, with Johnson throwing the game-winning touchdown pass. This is only the beginning for Johnson, and his coaches believe the sky is the limit for the young prodigy.
"For him to be the first eighth-grader from the state of Michigan to get an offer, I definitely think that's major," said Kevin Rogers, who is Johnson's quarterback back coach and offensive coordinator for the Spartans. "I knew it was coming, but I just didn't know when it was coming.
"Sam has made leaps and bounds since I first started working with him at 10-years-old. He could barely walk then, and now he's invincible on the football field. His career can go as far as he wants it to go, on and off the field. If he wants to go to the NFL, he can go. If he wants to be a brain surgeon, he can be one."
True success doesn't come without a devoted work ethic, even for a someone who has even sat in a high school classroom yet. Sure, Johnson does what normal kids his age do for fun, but his fun is also on the football field, and perfecting is craft. Throwing the football with his coaches at Quarterback University, or working out with high school players, and sometimes even college players, has become apart of a daily routine for Johnson, and the results are showing.
"I work out just about every day, said Johnson. "I've been working with Donovan Dooley and Kevin Rogers of QBU since I was 10, and they taught me a lot. They're such good coaches, and they've taken me everywhere, which has gotten me a lot of experience, so I want to thank them."
"His work ethic is crazy, and this offer is a true testament to how hard he works," said Rogers. "He's 24/7, 365 all football, on the field, in the weight-room, and in the classroom. He takes it all serious."
Even with all of his early success, Johnson is a humble kid, and the word "work" might be his favorite to use. He understands that this is just the beginning, and the best is yet to come. Southfield opens the season on August 28 against Detroit Cass Tech, which will be a true test for Johnson, who is more than ready. But first he has to enroll in high school.