How the cruel & unforgiving streets of Detroit swallowed up Reggie Harding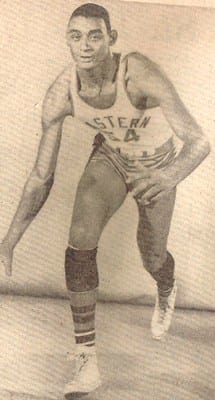 The streets of Detroit are cold. Colder than Freddie Jackson, sipping a milkshake, in a snowstorm. Everyday they snatch sons away from their mothers, whether it's to the prison system, or to the grave. The streets are cruel, unforgiving, and ruthless. Status and stature does not matter, even for a guy like Reggie Harding.

Detroit Eastern High, then located on the corner of Mack Avenue and East Grand Boulevard, won three consecutive Public School League basketball city championships from 1959-1961. Reggie Harding was the big-man in the middle. Literally. Believed to be the first 7-footer in the PSL, he was the star of those teams, earning first team all-city honors from the Detroit News all three years. He was one of the best players in the country, and averaged 31.3 points, 25 rebounds, 10 blocks, and eight assists per game as a senior. The 1961 Parade All-American was a rare talent on the hardwood at that time. A surefire pro. But for all of Harding's basketball talents and accolades, trouble was his middle name.

Harding was popular on Detroit's lower east side. He was a 7-foot marvel - in the days of Wilt Chamberlain - star of the basketball city champions, good-looking, and people wanted to be around him. But he would often use his size to his advantage off the court. Harding was said to have been a bully to those smaller than him, and had several run-ins with the law while in high school.
He was a foster child, after his teenage mother was forced to give him up for adoption when he was born in 1942. His foster parents were concerned about all of the trouble he was getting into, and in the summer of 1959, sent him up north to Cadillac, Michigan to a cherry-picking farm. He was the only kid of color on the farm, and was often teased for his height and color. It was far from what he was used to, his celebrity status on the gritty streets of Detroit, and was ready to go home. So he stole the farmer's truck and headed home to Detroit.

The biggest indictment on Harding's life is that he was an accused serial rapist. In 1960, while competing in a cross country meet on Belle Isle with Eastern High, he was arrested for having sexual intercourse with a 15-year-old. He was 18. Harding was charged with statutory rape, but said the sex was consensual. He was acquitted of the charges.

That same year, Harding offered a ride to a student from Northeastern High, named Florence Ballard. Yes, of The Supremes. At that time, Ballard, Diana Ross, Mary Wilson, and Betty McGlown were known as The Primettes. They were budding teenage stars, with Ross' stunning beauty, and Ballard's singing voice, and would go on to sign with Berry Gordy and Motown Records in 1961.
Ballard and Harding both attended a sock hop at Detroit's famous Graystone Ballroom, which used to be located on Woodward and Willis. She attended the party with her brother, but got separated from him. With home not being too far away, in the Brewster-Douglass Projects, Ballard decided to walk home. But there was Harding willing to take her home, and she accepted. To her, he was no stranger, really. It was Reggie Harding. Everyone knew him. But instead of taking her south down Woodward, he took her to an empty lot on Woodward and Canfield, where he raped her at knifepoint.
Ballard went into a deep depression for weeks, before telling Ross and the other girls what happened to her. She went on to have a successful career with The Supremes, but life got to her as well, dealing with depression and alcoholism. A heart attack took Ballard's life in 1976. And just like any other trouble Harding had gotten himself into, he continued on with life as if nothing happened, leading Eastern to another city basketball title.

Legend has it, Harding used to stick-up his neighborhood gas station quite often, until one time the attendant recognized who he was and called out his name. Of course he denied that it was him, but, even a mask could not conceal his 7-0, 250-pound frame. He pointed the pistol, and demanded the money anyways.
Harding was a great basketball talent in high school, but there are hardly any stories. Only those of his trouble-filled childhood. The stories are legendary. So mind-blowing, that you question if they are just urban legends. Either way, trouble always seemed to find Harding, and he would go and find it.

In 1961, Harding graduated from Eastern High. He was one of the top players in the country, but college was not an option for him. They say he could not read, and was passed through school because he was a great basketball player. Who knows? So he attended Nashville Christian Institute, a prep school in Tennessee in 1962. He also played semi-pro basketball for the Toledo Tartans and Holland Oilers in the Midwest Professional Basketball League in 1963. He became the first player drafted by the NBA that did not play a single college game, when his hometown Detroit Pistons chose him in the sixth round of the 1962 NBA Draft. They also selected him again in the fourth round of the 1963 draft, his first official year in the league.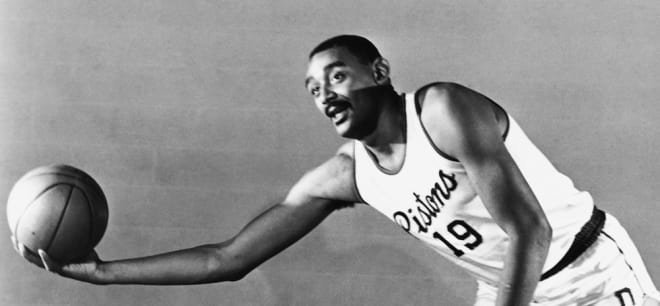 Always considered a pro, since his high school days, but constantly putting those projections in jeopardy due to the trouble he was getting into, Harding was finally making his NBA dreams come true. He played with the Pistons from 1963-1967, and had his best year during the 1964-1965 season, averaging 12 points and 11.6 rebounds a game. Solid numbers. But, even if you take the man out of the hood, you cannot take the hood out of the man. So what if Harding was signed to a NBA team? He still had a contract with the streets. He was a gangster who was good at basketball, which ultimately led to him being suspended for the entire 1965-1966 season.
He was known to carry a pistol in his gym bag, and the gun cases and assault charges began to pile up in Detroit. In those days, NBA teams did not have a dozen assistant coaches and other specialists monitoring and catering to players. In the 1960s, trouble, women, drugs, liquor, and guns were not hard to find, and that is just what Harding liked. They said he either went to the club straight from the game or practice, or came to the game or practice straight from the club, and no one was around to hold him responsible. That is how he always had it since he roamed the streets of Detroit. Those around him allowed him to do just about whatever he wanted. His rise to popularity was ironically his downfall.

He returned to the Pistons for the 1966-1967 season, but, his numbers declined dramatically, and the organization was fed up with him. So they traded him to the Chicago Bulls before the 1967-1968 season. He only lasted there 14 games there, and was ousted by the team for his insubordinate actions.

He landed with the Indiana Pacers of the ABA, but Harding's actions became more offensive there. Forget not abiding by the dress code, missing practice, and lying about it, Harding turned to violence. Like the time he pulled a pistol on teammate Jimmy Rayle, because he felt he was a racist.
"Tweetie Bird, I hear you hate niggers," Harding said to Rayle, who earned the nickname for his energetic style of play. He was out of control now, and his days playing professional basketball were numbered. The final straw came when he threatened to kill Pacers' general manager Mike Storen during a television interview. He did put up a double-double for the Pacers, but the antics were too much, and Harding was done in Indy and with professional basketball.

Life did not get any easier for Harding. He did a two-year stint in Jackson State Prison in Jackson, Michigan for parole violation. Then it was back to the east side streets of Detroit where it all began for him, hanging out with the neighborhood nobodies, and drug dealers. He was even hooked on heroin. Others say he was working on a comeback to the NBA, and trying to get clean. Once again, who knows? With Harding, there will always be more questions than answers.

On September 1, 1972, Harding was doing what he usually did in the hood, hanging out on the corner with friends, drinking and partying their lives away, when he got into an argument with a guy named Carl Scott. The two had knew each other from the neighborhood. Scott was a bad guy too, having served time in Jackson as well. The two got into a physical altercation, when Scott slapped the much taller Harding, who was in shock. So he retaliated, slapping him back, and did what he always did to people, picking them up, and holding them high in the air, embarrassing Scott in front of everyone on the corner. Scott ran off, furious at what Harding had done to him, and wanted revenge.
While Harding was standing on the corner of Kercheval and Parkview in the city's east side talking to some girls, Scott returned to avenge his embarrassment, pistol in hand, pointing it high in the air at Harding.
"If you shoot me, shoot me in the head," said Harding. "I don't want to feel no pain."
Scott did just that, shooting Harding once, to get him to the ground, and then putting the final bullet in his head, before taking off once again. Harding died a day later at Detroit General Hospital. Victim to the streets he called home, to people that watched him grow from a teenage basketball prodigy, to a 30-year-old street junkie. Once again, Harding's so-called friends failed him once again.

His funeral was held a week later at Greater Mt. Carmel Baptist Church on Mack Ave., right up the street from his now-closed Eastern High School, which relocated and became King High in 1969. Hundreds of people came to say goodbye to the big-man. He was finally relieved of all the pain life had caused him, and that he caused for himself. And whether you choose to view Harding as a great basketball player, a waste of talent, a rapist, or a hot-head, one thing we all can agree on, he was a lost soul. He could have been just as good as Chamberlain and Bill Russell, two guys he played against in the NBA, but back then, the street life was too intriguing to some. That is all he ever knew, even if he did play basketball.

Even in his death, Harding could not catch a break. He was taller than the average human, and his gravesite was too short for his coffin to fit into. So they had to bury him at an angle. Signifying how twisted his life was from birth to death.