Detroit King 2016 LB Armani Posey will visit Michigan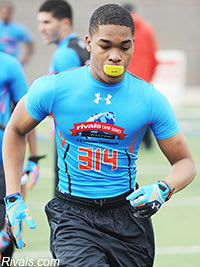 DETROIT -
Martin Luther King senior linebacker,
Armani Posey
, has been tearing it up on the field with his new team this season. Through three games, Posey has 24 tackles and six sacks, helping King get off to a 3-0 record so far. King has only given up 25 points so far in three games, in what has quickly become one of the best defenses in the state this year.
"My season has been going great, and I'm having fun," Posey said. "I love my teammates, and my coaches are putting in the right places to have a huge year. I've put a lot of work in during the off-season.
"We can always be better on defense. Our defense is so talented, that we strive to be perfect. Anybody on our defense can make a big play at anytime."
Well, as of late, that player has been Posey, who had a monster game versus league rival, East English Village Prep. In the game, Posey had eight tackles, two sacks, and the game-winning tackle on 4th and 1 for EEVP. Surprisingly, Posey had no offers to that point, until Davenport University came calling on yesterday. And while the Panthers are a new NAIA program, Posey is still appreciative of the offer, knowing that his play on the field isn't going unnoticed anymore.
"I'm excited," he said. "Now knowing that I can get a free education, and someone is taking a chance on me, my hard work is paying off, and I'm just thankful."
To be honest, Posey is way better than NAIA football. In fact, he is legit Division I material, and programs like Eastern Michigan, Indiana, Cincinnati, Illinois, Michigan State, Central Michigan, and Buffalo all have him on their radar. So does Michigan, who Posey said they he will take another visit to on Saturday for their game against UNLV. Posey visited UofM before, over the summer, for their annual BBQ recruiting event, and is excited about being back on campus this weekend.
"Erick Campbell invited me to come, and he said the defense coaches said get me up here," said Posey. "I hope to get to know the coaches a little better, after talking with them a lot at the Michigan BBQ. I want to let them no more about me as person, and what kind of young man they would get in their program.
"I received my first mail from them a couple weeks, then followed with a personal invite to the games. They said that I'm definitely Michigan material, with my athleticism."
It remains to be seen if Posey will be able to pull an offer from the Wolverines, but he remains optimistic about it, and just hopes for the best. At 6-1, 200-pounds, Posey isn't your biggest linebacker, but he moves like a safety would, which allows him to be very versatile on the field, whether in coverage, or playing the run, or rushing the passer. He has been watching Michigan over the past two weeks, and feels that they are program on the rise again.
"I think their season has been going great," he said. "Michigan is just a couple of plays from being 2-0.
"I don't know yet if I'll get an offer from them, but hopefully we get a good relationship going, and anything is possible."
Posey's mid-season highlights: